Feature: Navigation Panel
I think having a small "article" of sorts every news should be neat! Don't hesitate to suggest subjects, or maybe even a guest article!
So this time, the big innovation you can see is going to be the new Navigation Panel! With the engine complexity going up, effective usage was going to be harder, so I wanted a robust way to handle the engine! In today's feature, we're gonna have a more in-depth look at it and its design.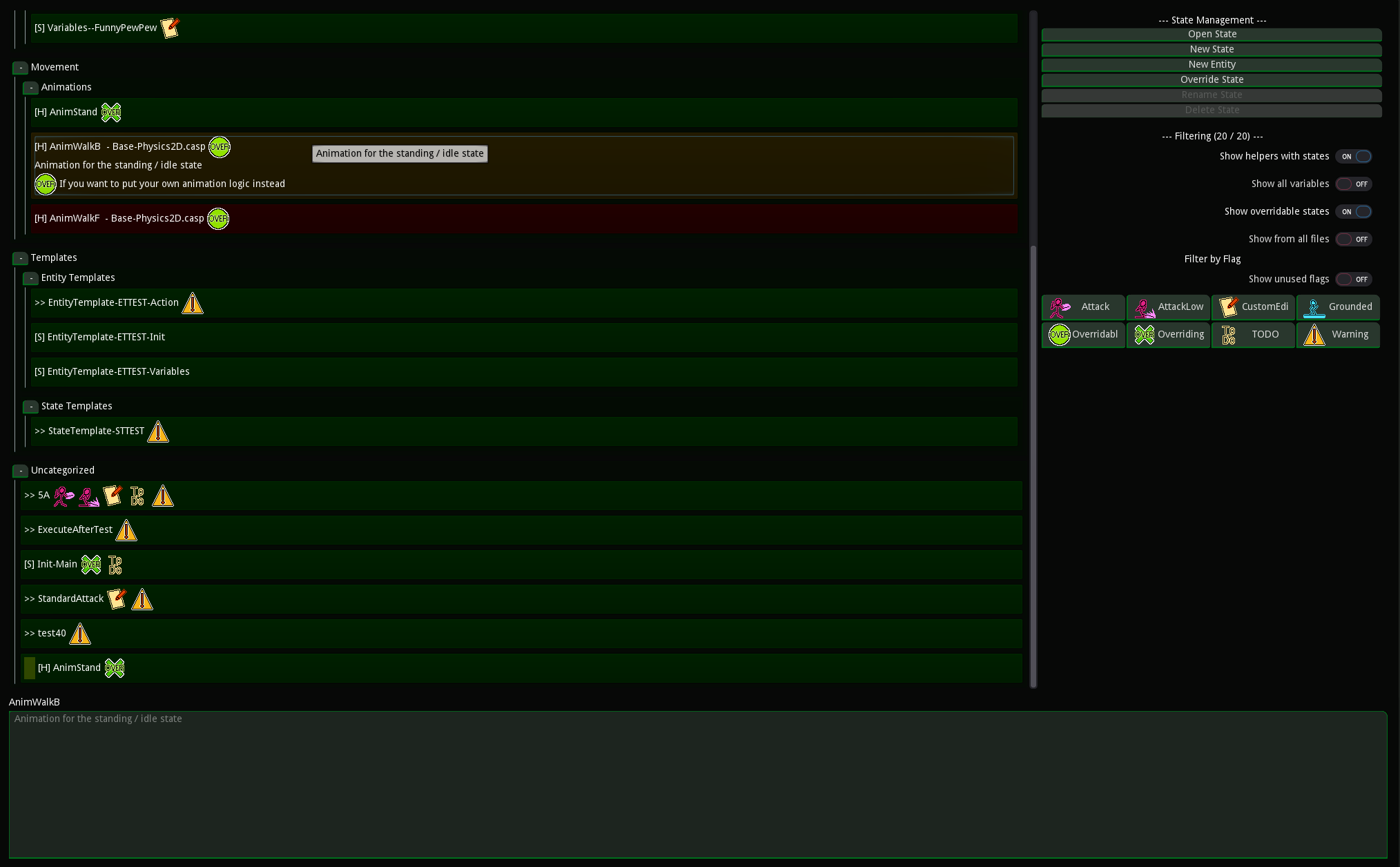 The final navigation panel with parts labeled! It's packed with features!
There's a lot to unpack, so before that I think it's wise to go back to what it's supposed to do and what it looked like. The navigation's panel role is to select the correct state in the current file's list of states. Easy right?
The issue is that, there's a LOT of states over several files. Even with the addition of tags to group states together, it was still a lot to go through.
On top of that, a lot of the flexibility of Castagne comes from the fact that you can program a lot of behavior through its scripts, which also means I wrote a big Base.casp with default behavior that you can overwrite. However, the issue here is that if you want to know what to overwrite, you kinda have to read the whole file, which is less than ideal.
This is quite a problem for the UX here, as it is one of the most common parts the user will have to use. This is also quite a contrast to the other clearly documented parts of the engines, as this one is technically in user-space, and thus was left to the user.
This stumbling block is also getting worse: as the engine grows, the complexity does too, and in particular the Base.casp got separated into many (7 or more!) files, which is going to make it even more difficult! This requires a rework, and fast.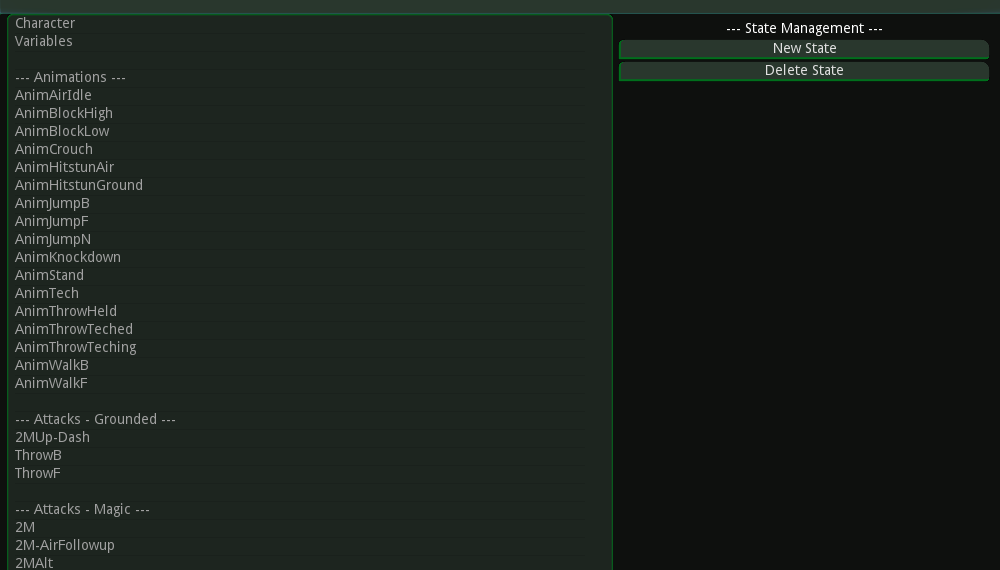 The old navigation panel! I'll say it was serviceable, because that's pretty much what it did, but even I found it inefficient to use as time went on.
So there's a fair problem: how to make selecting states efficient? You need to be able to find them quickly and visually. But that's not the only one problem here.
The deeper issue at play, is that users don't have intrinsic knowledge of Castagne when starting out, and thus need to be guided to their answers. I could write guide upon guide for each feature, but that'll still leave blind spots and might be outdated, while being intimidating and with another degree of separation. This makes it clear: the interface itself needs to teach users.
So of course, that's easy to say, but harder to put into practice. What I think is a good way here, is to allow users to discover the states they might need and to allow them to understand what they do. I think I achieved this in some capacity, but there's very probable improvements to be made.

The new list looks neat I think! Having useful parts closer together always helps.
The first change I made was to have each state get its own lil' panel to call home. It's not much, but it helps each one stand out, and we can add more stuff to it over time, as we'll see soon.
The first improvement I made, was to replace the tag system with categories. It's still pretty much the same thing, but with nesting, and the ability to collapse them, which makes navigation easier. On top of that, some categories are made automatically.
Sometimes however, states call on other states, sometimes from other files. To ensure they could be found more easily, I added a toggle to show states from the previous files, as well as to show helper scripts next to the state that calls them! This allows you to skip the step to find them, although you could somewhat do that earlier through the CalledStates button. We're starting to get a bit crowded however, yeah?
I love the little icons here! They are also PRACTICAL.
This means we need to get some filtering in! To do that, I added State Flags: little icons that can either be added and inherited manually (like the Grounded or Airborne icons), or added automatically by the parser (like the Attack family). The default flags cover a few niches:
The Attack family of flags allows you to find specific attacks quickly. It can even detect properties like lows and overheads!
The Airborne and Grounded icons are inherited by their state, and help you zero in a bit faster.
The Override and Overriden icon are going to be pretty useful in the next part.
And finally, the Error, Warning, and TODO icons help you with edition!
Each of those icons is visible with a clear color code, which helps you find states at a glance. On top of that, you can filter them, by showing only the states that have one of these flags! I think we got our selection efficiency question covered, so lets get to the others.

Now you have no excuse to skip on comments either!
At the moment, you still need to get inside the state to get what it does. This is what this next change aims to fix: State Documentation!
All comments that start with ## get added to the state's documentation. This is then shown on the window below, as well as a tooltip. Additionally, the first line is shown next to the state when selecting it, and the TODO keyword is detected and raises a State Flag.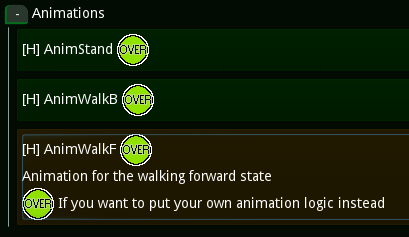 To be quite honest, I also sometimes forget what my code does, so it's helpful for me too.
These help us understand, but we also need to discover the abilities of the engine. We already have some of that through the called states and helpers, but since most interaction is going to be through overridable states, they have a specific behavior added.
Any state may be marked as overridable, along with a comment. This comment is then shown together with the state when selecting it, as well as raising a state flag. This flag may then also be filtered for, but I've also added a toggle to show all the overridable states at once for convenience.
This helps quite a bit! To help keep track of that, the overriding states have their own state flags, and it is not possible anymore to create one by accident through the "New State" button, as you can now only make them by selecting it and then clicking on "Override State".
All in all, I think this will allow for more organic discovery of the engine, which will help users mature. I don't think it will remove the need for guides or anything, but it quite complementary to them. I hope you'll enjoy using it to make your games!